Health care workers and long-term care residents should get COVID-19 vaccines first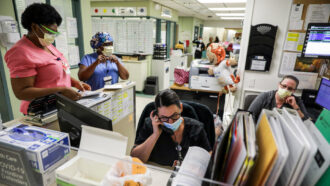 Health care workers and long-term care facility residents should be at the head of the line when the first doses of vaccines against COVID-19 are available in the United States, an advisory committee to the U.S. Centers for Disease Control and Prevention recommended on December 1.
The news comes as two vaccine candidates, from Pfizer (SN: 11/18/20) and Moderna (SN: 11/16/20), are set to be considered for emergency use authorization by the U.S. Food and Drug Administration on December 10 and 17, respectively. If one or both vaccines get the go-ahead from FDA and the CDC's Advisory Committee on Immunization Practices, people with first priority could begin to be vaccinated before the end of the year. 
"This is a particularly difficult time in the United States," said ACIP member Beth Bell of the University of Washington in Seattle, who noted during the meeting that the country is averaging one COVID-19 death per minute. "So we are acting none too soon."
As of December 1, more than 13.6 million people in the United States have been infected with SARS-CoV-2, the virus that causes COVID-19, and nearly 270,000 people have died, according to Johns Hopkins University's COVID-19 tracker.
This is the first guidance that ACIP has issued on the allocation of the initial, limited supplies of COVID-19 vaccines. There will still need to be guidance for people next in line, such as other essential workers, older adults and people with preexisting conditions. It will be up to state health departments to implement the guidance.
ACIP has been meeting throughout the year to prepare for the availability of COVID-19 vaccines, with the understanding that there wouldn't be enough of the shots for everyone right away. The Pfizer and Moderna vaccines each require two doses taken several weeks apart. There will be about 40 million doses available by the end of the year, meaning around 20 million people could be vaccinated. 
The United States has an estimated 21 million health care workers and around 3 million adults living in long-term care facilities. The initial supply is short of what's needed for the first group, so the committee is expected to offer more guidance for this tier. 
In addition, there are 87 million other essential workers, including educators and police, 53 million people ages 65 and older and more than 100 million people with high-risk medical conditions, according to ACIP. 
Everybody will ultimately benefit from the vaccine, but at the beginning, when the shots are scarce, it's a question of "who will benefit the most," says bioethicist Nancy Kass of the Johns Hopkins Berman Institute of Bioethics and Bloomberg School of Public Health. And who benefits most can be further divided between those at greatest risk of becoming infected, such as health care workers and grocery and meat-packing employees, and those at highest risk of becoming seriously ill if they become infected, including older adults and people with preexisting conditions.
Another consideration is fairness. That means being transparent about what the criteria are "so that when people see others going in line ahead of them, they know why," says Kass, who was not involved in the deliberations. Making sure the vaccine reaches everyone in a prioritized group is also crucial to ensuring equity. "If COVID vaccine allocations are done appropriately, there will be people from so many different demographic backgrounds who ought to be in tier one that it will be equal opportunity with regard to income and race," she says.
ACIP laid out the ethical principles influencing their deliberations on how to allocate initial supplies of a COVID-19 vaccine on November 27 in Morbidity and Mortality Weekly Report: Maximize benefits and minimize harms, promote justice, mitigate health inequities and promote transparency.
Health care providers have been considered a top priority throughout ACIP's discussions and in guidance provided by other groups, including the National Academies of Sciences, Engineering and Medicine. There have been at least 243,000 confirmed cases of COVID-19 among U.S. health care workers and 858 deaths as of November 30, according to the CDC. 
The committee pointed out that women constitute 75 percent of the health care workforce, and of those, 330,000 could be pregnant or recently postpartum when the vaccine becomes available. ACIP will review the Phase III data from the vaccine trials as well as the FDA's assessment of the vaccines and the conditions of any emergency use authorization before providing guidance for these women.
Long-term care facilities, which provide care to frail and older adults who can't live independently, have been hit especially hard during the pandemic. Approximately 730,000 residents and staff of long-term care facilities have had COVID-19 and more than 100,000 have died as of November 26, according to the COVID Tracking Project.