The U.K. is the first country to authorize a fully tested COVID-19 vaccine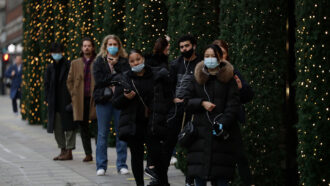 The United Kingdom became the first country to approve a fully tested COVID-19 vaccine for its citizens on December 2 when it OK'd Pfizer's vaccine for emergency use.
Russia and China have allowed emergency use of vaccines made in those countries, but did so before safety and effectiveness trials were completed (SN: 8/11/20; SN: 7/21/20). The United Arab Emirates also granted early emergency use authorization for two Chinese-made vaccines.
The U.S. Food and Drug Administration's vaccine regulators will review Pfizer's application for emergency use authorization on December 10. Many experts expect the vaccine, developed with Germany-based BioNTech, will get FDA's nod because its effectiveness is well above the 50 percent threshold the agency previously said would be required for authorization. In November, Pfizer announced that its vaccine was about 95 percent effective at preventing illness in a large clinical trial in the United States (SN: 11/18/20). 
Pfizer and BioNTech began a "rolling review" process in the United Kingdom in October, giving health regulators there time to review data as they became available. Scientists and clinicians considered data from laboratory studies, animal studies and safety and effectiveness data from clinical trials in people when making the decision, the Medicines and Healthcare products Regulatory Agency said in a news release.
Pfizer has contracted with the United Kingdom to provide 40 million doses of vaccine to be delivered in 2020 and 2021. Since the vaccine requires two doses, that's enough to immunize 20 million people. The first doses will arrive within days from the company's manufacturing site in Puurs, Belgium, the company said in a news release. 
The vaccine uses messenger RNA, or mRNA, to deliver instructions to human cells for building one of the coronavirus's proteins. Once cells begin making the protein, the immune system builds antibodies and other defenses that stop future invasions of the virus from making people ill. The vaccine must be stored at –70° Celsius to remain effective, so requires special shipping and storage conditions that could make its roll-out more challenging than for traditional vaccines, which need only refrigeration (SN: 11/20/20).