Sheikh Mohamed bin Zayed Institute of Cardiology opens in Pakistan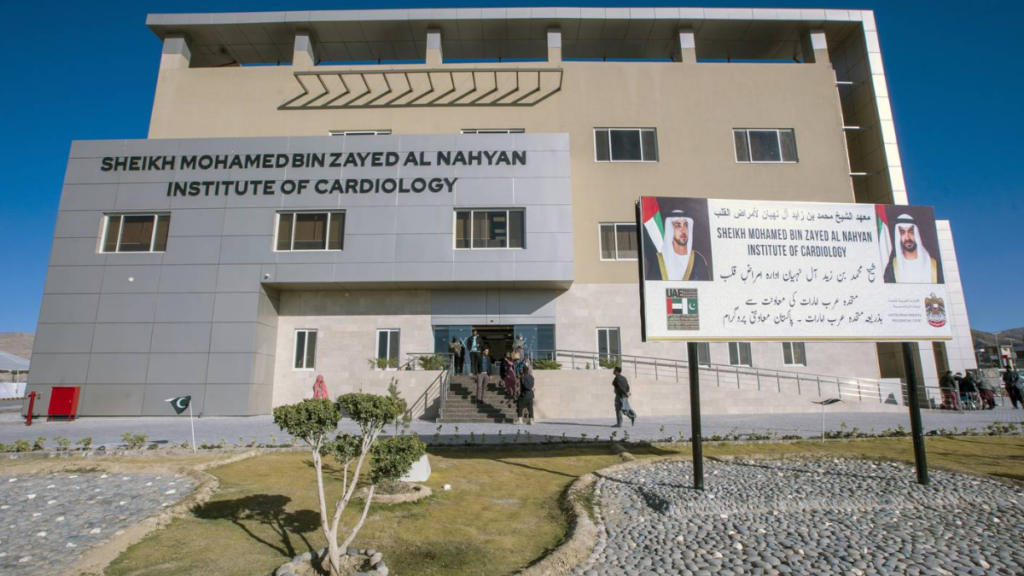 Sheikh Mohamed bin Zayed Al Nahyan Institute of Cardiology has been opened in Quetta, the capital of the province of Balochistan in the Islamic Republic of Pakistan.
Under the directives of the President of the United Arab Emirates (UAE), His Highness Sheikh Mohamed bin Zayed Al Nahyan, the institute is constructed on an area of 121,406 square metres at a cost of $27.30 million.
Qamar Javed Bajwa, the current Chief of the Army Staff of Pakistan, opened the Institute of Cardiology on Thursday. The implementation of the Institute was funded by the Abu Dhabi Fund for Development and supported by His Highness Sheikh Mansour bin Zayed Al Nahyan, Deputy Prime Minister and Minister of the Presidential Court.
Mir Jan Jamali, the Governor of Balochistan and Hamad Obaid Al Zaabi, UAE Ambassador to Pakistan, also attended the opening ceremony of the institute. During the ceremony, the officials talked about the Emirati humanitarian development projects that were implemented in the Balochistan region of Pakistan over the past few years.
Lieutenant General Qamar Javed Bajwa also praised the UAE's efforts and wished Sheikh Mohamed bin Zayed good health.
According to the Emirates News Agency WAM, the institute will benefit 12 million Pakistani in the Balochistan province. It will also help in the treatment of heart and cancer diseases. Reportedly, the institute has the capacity to provide services to over 500 patients daily and 182,000 patients annually.
The institute has 17 buildings that can treat cardiovascular disease using modern technologies. The main building has outpatient departments, specialised clinics, an emergency department, a dental department, a cardiac catheterisation room, intensive care units and inpatient suites.
The institute also has a mosque, a club for doctors and employees, a fire station, control towers, gardens, a market, and parking lots.
The patients in the province thanked the UAE President for providing them with a prestigious specialised medical centre. The medical staff said that the institute would help in the treatment and surgery of cardiovascular diseases.