Donald Trump's long-time ally found not guilty on foreign lobbying charges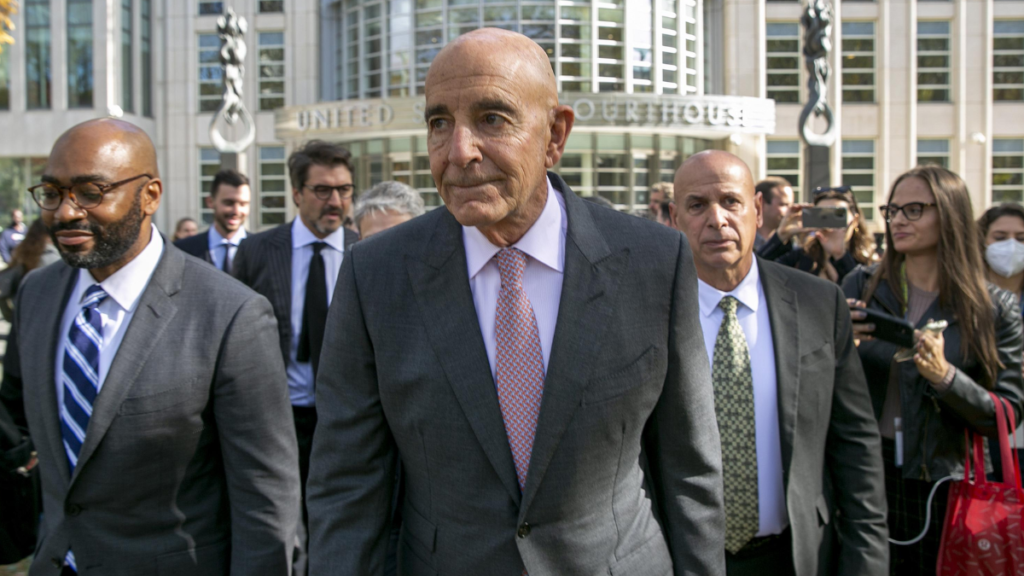 Tom Barrack, a steadfast supporter of former president Donald Trump and a former chairman of his inauguration committee, was found not guilty on Friday of accusations of improperly operating as a foreign agent on behalf of the United Arab Emirates, defeating federal prosecutors in Brooklyn.
Two former Trump administration officials testified during the trial, which lasted over two months, and a jury of five men and seven women reached a conviction after three days of deliberation.
All accusations against Barrack, including obstruction, conspiracy, and lying to the FBI, were dismissed.
"God bless America. The system works," Barrack said outside the courthouse following his acquittal. "I am humbled. The system is amazing, the people are amazing, I have no hostility."
Barrack responded, "I pull for all of them — it's the toughest job in the world to be president of the United States," when asked about his criticism of Trump during the trial, in which he claimed that his support of the former president ultimately proved to be "disastrous" for his work.
He declared, "I'm just done with politics." Barrack's assistant at his real estate company, Matthew Grimes, who was indicted with Barrack, was likewise found not guilty.
Grimes said in reference to his feelings of gratitude, "The word is clichéd, but I just feel grateful."
"Great news for our Country, Freedom, and Democracy in that businessman Tom Barrack, who should have never been indicted or tried, was just cleared of all charges," Trump himself said in a statement praising the acquittals.
Prior to requesting the release of those found guilty of attacking the U.S. Capitol on January 6, 2021, Trump said, "My tremendous gratitude goes out to the jurors for their courage and understanding in getting to an absolutely correct judgment."
As a foreign agent for the UAE from 2016 to 2018, Barrack, 75, was charged by the Justice Department with illegally lobbying the Trump campaign and the first few months of the administration while also failing to register with the department as required by law.
When federal authorities questioned Barrack about his connections to the UAE in 2019, the prosecution also charged him with lying to them.
The high-profile case, which included a star-studded cast of witnesses, provided a window into the operations of Trump's closest circle during the 2016 campaign and the early stages of his administration. Steven Mnuchin, the Treasury Secretary, and Rex Tillerson, the Secretary of State, both former members of the Trump administration's cabinet, both gave testimony during the trial.
Paul Manafort, Jared Kushner, and Rick Gates, among other former Trump campaign and administration executives, were also named on occasion.
In his closing remarks, federal prosecutor Ryan Harris argued that Barrack had tried to "leverage his access" to Trump through his contacts in the UAE in an effort to enrich himself and his real estate investment company, which attracted significant sums of money from the Emirati sovereign wealth fund around the time of Trump's inauguration.
Randall Jackson, a lawyer for Barrack, urged jurors to reject the government's case during his closing remarks, pointing out what he called a "complete lack of evidence" in the prosecution's case.
Six days were spent by Barrack on the witness stand, arguing his own case against all of the accusations leveled against him. He spent hours describing to the jury his extensive business connections with the UAE and his efforts to establish linkages between the Trump campaign and the Middle East.