UAE President Mohamed Bin Zayed held talks with Russian President Vladimir Putin in St. Petersburg, Russia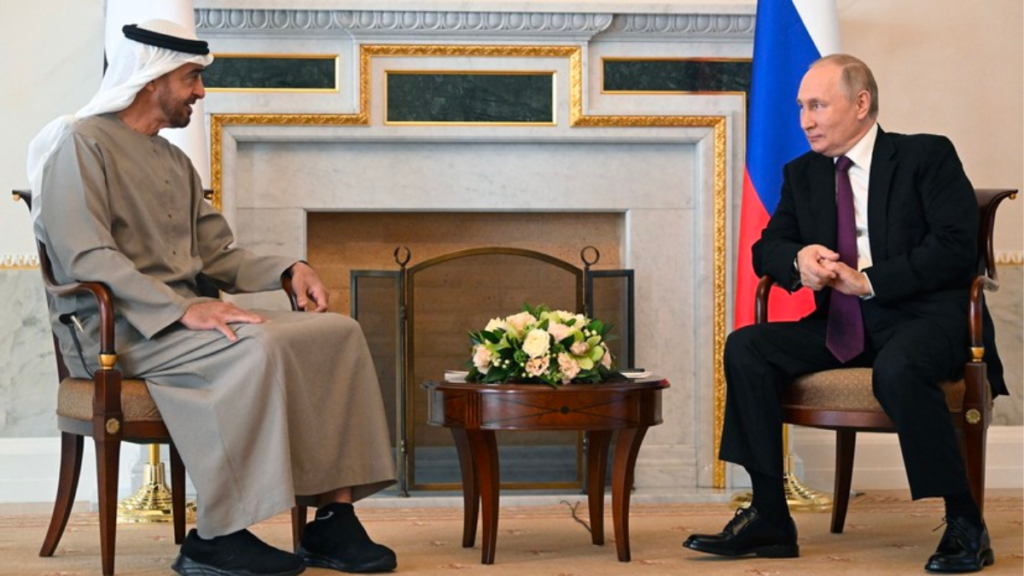 The president of the United Arab Emirates, His Highness Sheikh Mohamed bin Zayed Al Nahyan, held talks with the Russian President earlier today during his first official visit to Russia.
Emirates News agency an official state news agency highlighted the UAE's policy of supporting peace and stability and emphasized serious consultations to resolve the Russia – Ukrainian crisis.
Earlier the Ministry of Foreign Affairs and International Co-operations noted that "to produce constructive results to reduce military escalation, decrease humanitarian consequences, and find a political settlement to achieve world peace and security," the ministry claimed.
Notably, the UAE reiterated its position calling for diplomacy, dialogue, and respect for the laws and principles of international law while highlighting its readiness to support efforts aimed at finding a peaceful solution to the Ukrainian situation.
The visit of President His Highness Sheikh Mohamed bin Zayed Al Nahyan to Russia, according to the Ministry of Foreign Affairs and International Cooperation (MoFAIC), is a part of the UAE's ongoing efforts to help achieve security and stability in the region and the world, as well as to strengthen fruitful and constructive cooperation with regional and international powers. The ministry also said that it will be in contact with all parties involved in the Ukraine crisis.
Moreover, the United Arab Emirates is keen to cooperate with Russia on improving global energy security.
Saudi Arabia and the UAE, two major producers in OPEC, have so far refused US requests to use their extra capacity to assist control oil prices, claiming they are committed to an output agreement under the OPEC+ alliance, which also includes Russia.