Presidents of the UAE and the US meet virtually to discuss a joint initiative to accelerate the energy transition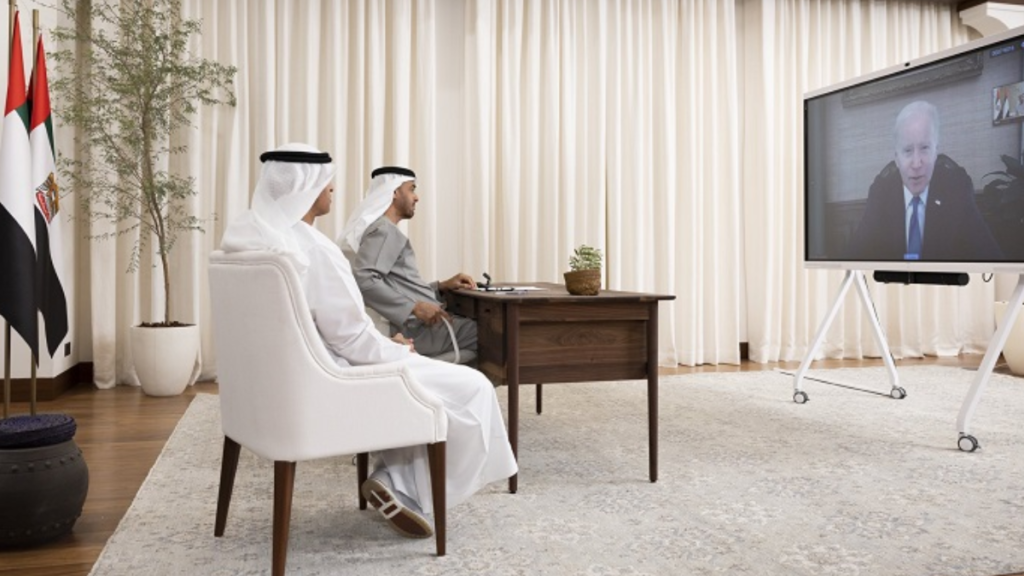 The President of the United Arab Emirates (UAE), Sheikh Mohamed bin Zayed Al Nahyan, and the President of the United States (US), Joe Biden, held a video call on Wednesday to discuss a joint initiative to accelerate the energy transition.
During a video call, they discussed the historical friendship and strategic partnership between the two countries. They also reviewed the comprehensive Emirati-US initiative announced by the two countries to invest in clean energy and promote global energy security.
The two ministers talked about the strategic Partnership for Accelerating Clean Energy, which was signed on Tuesday at the Abu Dhabi International Petroleum Exhibition and Conference (ADIPEC) in the presence of the UAE President. The initiative aims to help accelerate the energy transition. The initiative also highlights the depth of the relationship between the two countries as well as the bilateral relations and strategic partnerships in various fields.
The UAE President also wrote about the virtual meeting on Twitter. He reportedly said, "We reaffirmed the depth of UAE-US relations and discussed our recently launched joint initiative to accelerate the energy transition."
The joint initiative will pave the way to invest $100 billion in clean energy projects in the two countries and emerging economies by 2035. The investment will help to produce 100 gigawatts of clean energy in the US, UAE, and emerging economies. The initiative is in line with the UAE's goals to reach climate neutrality by 2050.
During the call, the UAE President stressed the need to adopt measures to reduce the effects of climate change and global warming. For his part, Joe Biden thanked the UAE President "for his leadership on climate issues" and offered support to the UAE for hosting Cop 28 (the 28th session of the Conference of the Parties) next year.
According to the White House, the two countries will work together on various clean energy initiatives, including carbon and methane management, civil nuclear energy, and decarbonizing the industrial and transport sectors.